Notes from the Manager
Related Strips: #269: Old School, Part Two; #375: It's Like I Don't Know You Anymore
Apologies to the proprietors of The Brown Elephant, City Olive and Bon Bon, for misappropriating your storefronts and bastardizing your names. ("Super Bon Bon" is a lackluster twist on that store's name, but I couldn't resist the Soul Coughing reference.)
Despite all the fake businesses, the comic book store displayed on Jason's T-shirt — Third Coast Comics — is real (and it happens to be in Edgewater, not far from the Calo Theatre). It's my regular comics shop, and one of the best comics shops I've ever been in, nevermind just in the Chicago area. If you check it out, tell Terry you heard about his store in Multiplex. He may not give you a discount or anything, but he'll probably say, "You read that?"
Also — of course — the Calo Theatre is very much real. (Here is a photo of approximately the final panel from this strip. You can see more images of the Calo Theatre — taken with kind permission of the staff of the Brown Elephant — at my Flickr page.)
For those not familiar with Chicago's north side, when Jason mentions that he grew up around that area, he is referring to having grown up in Rogers Park (as mentioned in #269); Andersonville, where the (former) Calo Theatre resides, is a short bike ride from the RP.
And lastly, when one panel takes me eight hours to draw it, you better believe it's gonna be enlarged as a new TopWebComics vote incentive.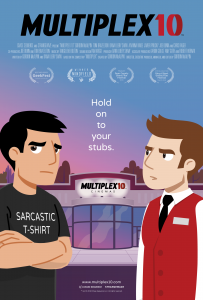 Multiplex 10 is here!
Although Multiplex 10 has ended, an animated prequel/reboot called Multiplex 10 was funded through Kickstarter in 2017 and is NOW AVAILABLE for rent or purchase on Vimeo On Demand, Amazon Video, and elsewhere! And an all-new, irregularly-updated Multiplex 10 web series (set after the short film) recently launched on YouTube! Learn more about the web series on the official Multiplex 10 website!
Stay up to date on all things Multiplex, Multiplex 10 and me (a.k.a. Gordon McAlpin) by subscribing to my newsletter!