Notes from the Manager
Related Strips: #195: Oh My God; #400: Diarrhea of the Dead, Part One
So you guys must really want those Mutliplex: Chapter 1 comics (and/or the print collection), because the Multiplex Kickstarter project is over $500 over the goal I'd set for tonight at midnight (and counting)!
It's not to late to get in on the action, though: if you pledge ANY amount today (Wednesday — and I'm going by Central Time), you'll be eligible to win one of five copies of the Chapter 1 print comic. (Note that these aren't yet printed, so they won't get shipped out for a while. They will eventually be available in the Multiplex Store, as well.)
Keep those pledges coming! I'll cook up another special reward/incentive random drawing soon, and (if you don't win now) you will be eligible for the next drawing!
Please don't feel like I'm asking for donations, here! I'm trying to make this more than worth your pledge: with bonus strips, the free copy of the Chapter 1 HD edition (and Chapter 2, when it's out) and $2 off any of the T-shirts in the Multiplex Store. The book will almost definitely have a cover price of $25 (judging from the quotes I'm getting back from printers so far), and you're getting free shipping anywhere in the US or Canada, too. With such ridiculously low interest rates these days, that's a bigger return on your investment than any bank is offering now, believe me!
There is one more update left this week! See you on Friday!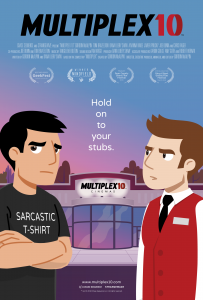 Multiplex 10 is here!
Although Multiplex 10 has ended, an animated prequel/reboot called Multiplex 10 was funded through Kickstarter in 2017 and is NOW AVAILABLE for rent or purchase on Vimeo On Demand, Amazon Video, and elsewhere! And an all-new, irregularly-updated Multiplex 10 web series (set after the short film) recently launched on YouTube! Learn more about the web series on the official Multiplex 10 website!
Stay up to date on all things Multiplex, Multiplex 10 and me (a.k.a. Gordon McAlpin) by subscribing to my newsletter!