Notes from the Manager
Related Strips: #400: Diarrhea of the Dead, Part One; #401: Diarrhea of the Dead, Part Two
For those few of you who have been wondering: the spot on my tongue is benign. yay!
I've contacted the (second group of) five winners of the upcoming Multiplex: Chapter 1 print comics via the Multiplex Kickstarter page. Thank you everybody for pledging!
We just passed $4500 last night! Thank you very much, y'allz! Keep those pledges coming! Less than $3000, and we're in the clear!
I have no idea what to do for an pledge incentive next! Give me ideas.
And now, I need to go to sleep.
UPDATE (2:16 pm): So winners of the second batch of five Multiplex: Chapter 1 print comics have been notified via the Kickstarter Project's Message Center.

Time for pledge incentive number THREE!

For every $500 we get added to the total between now and October 19th, one lucky backer will get their pretty face drawn Multiplex-style for their Twitter / Facebook / whatever avatar. You'll get AI files and JPGs, so you can do whatever you need with them.
I'm starting the count from $4500, meaning if we get to $5000 before I post the strip for Monday, October 19th, there will be one winner. If we get to $5500 by then, there will be TWO; $6000 gets three winners; and so on.

(While it's not part of the prize, once I've drawn you, there's a pretty good bet you will appear in the print comic at some point as an extra, too.)
UPDATE (Sunday, October 11th): I've added a new Kickstarter Backers-only strip — from the upcoming second Chapter eBook (and of course the print collection, as well). It's the first of a three-part story called "Hostile Makeover," set after #42 in the archives, and explaining — at long last — Becky's new haircut and glasses.
The previous backers-only strip — a "guest strip" by Kurt — is temporarily up as the TopWebComics vote incentive (until I post a new incentive), to give those of you who have not yet pledged a taste of what you're missing out on. I will not be posting all of the backers-only strips as vote incentives, so if you want to read more Multiplex, pledge today — even just one little dollar will let you read the backers-only posts. But, of course, the $5 level will give you the Chapter eBooks. ;) And then, why not just reserve your copy of the print book now by pledging at the $30 level, since you know you're going to want it, anyway?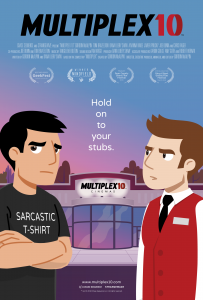 Multiplex 10 is here!
Although Multiplex 10 has ended, an animated prequel/reboot called Multiplex 10 was funded through Kickstarter in 2017 and is NOW AVAILABLE for rent or purchase on Vimeo On Demand, Amazon Video, and elsewhere! And an all-new, irregularly-updated Multiplex 10 web series (set after the short film) recently launched on YouTube! Learn more about the web series on the official Multiplex 10 website!
Stay up to date on all things Multiplex, Multiplex 10 and me (a.k.a. Gordon McAlpin) by subscribing to my newsletter!